MongoDB Overview¶
ObjectRocket offers different products now, but our original was MongoDB as a Service. Our MongoDB infrastructure has been specifically designed to be scalable, performant, highly available, and most of all easy to use!
We offer easy provisioning through our Control Panel and once created can be accessed through any of the standard MongoDB connection methods. We define an instance on our platform as a highly available cluster, which can have multiple databases underneath. You'd manage each instance as a whole, with it's own connect string and ACL's, as well as individual databases and collections inside.
What types of MongoDB do we offer?¶
We currently offer three different types of MongoDB plans: a sharded version, a simpler replica set, and a single database. Let's go over each to see what might fit your usage better.
Replica sets¶
Our Replica Set MongoDB instances are intended for customers that want the benefits of a highly available MongoDB instance but don't need the distribution that comes with sharding.
We offer Replica Set MongoDB instances in 5G, 20G, 50G, 100G sizes. If you need something bigger, we can support that as well. Just contact one of our Data Specialists.
Replica Sets follow the same general approach as our sharded plans with three members (1 Primary + 2 Secondaries) but without all of the Mongo Servers and Config Servers required for sharding. The Primary Node receives all write operations while the Secondary Nodes replicate the Primary's data. If the Primary Node is unavailable for whatever reason, then one of the Secondary Nodes becomes the Primary, providing the fault tolerance needed.
Warning
Replica set instances do not offer ServiceNet connectivity, so please keep that in mind. We recommend using Sharded plans for that access, as they have the additional infrastructure needed to support those features.
Here is what the underlying Replica Set infrastructure looks like: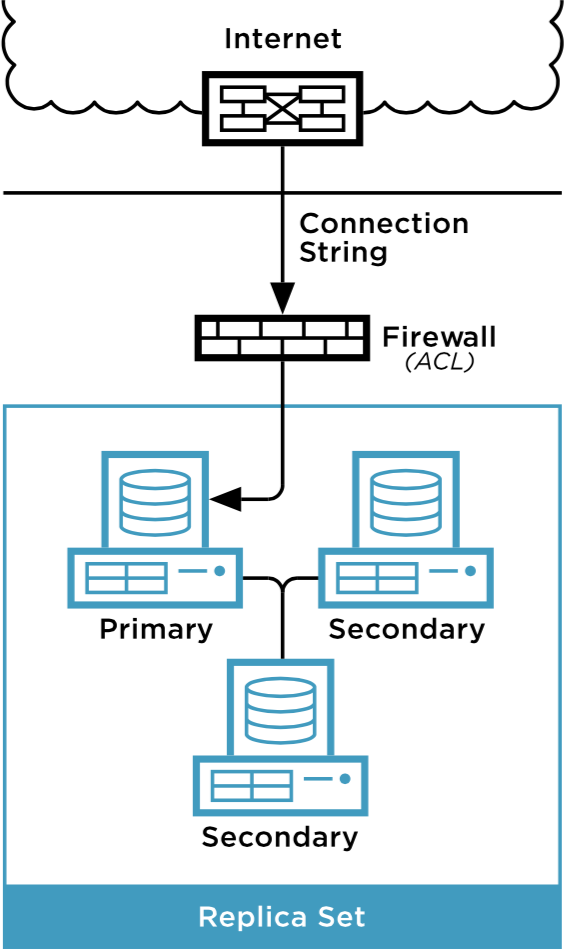 SingleDB¶
Our MongoDB SingleDB is designed for projects that require only a small MongoDB footprint and a single database and is also a good way get your feet wet with the ObjectRocket Mongo experience.
These plans provide:
A fully containerized MongoDB replica set with high availability and automatic failover (same as our other Replica Sets)
A single MongoDB database
The latest version of MongoDB
Our ObjectRocket MongoDB optimized infrastructure
Access to our ObjectRocket MongoDB experts
These instances will start with 1G and a single database. The instance can grow the MongoDB footprint up to 5G but remain just a single database. We will automatically handle the changes in size and only charge for your usage at 1G increments. If you need more than a single database on the instance or need more than 5G, we can switch you over to one of our standard Replica Sets. Just contact our Support Team.
As always, if you have any other questions about anything you've read here, please feel free to reach out to our Support Team!